I recently took a brief side trip to the island of Mallorca, off the coast of Barcelona, with a group of co-workers while we were en route to a business trip in Zurich (yes, this really did make sense!)
We rented a stunning villa, right on the beach. We arrived late at night, so were not able to see anything about our surroundings. The next morning, we needed breakfast, and decided to take a stroll down the beach, and wound up at Playero, which I'd read about before arriving.
Strolling down the beach.
You couldn't beat the easy walk, literally right out our front door, and along the beach. At a relaxed vacation-mode pace, it was less than 10 minutes, all right on the beach.
Great Location.
The location was excellent, literally, right on the beach. You could sit with your feet in the sand. Some seats had umbrellas or were otherwise shaded for those who were sun-averse.
While it was a great location, the food was pretty mediocre, and pricey for what it was. I had of course read all of this in advance, but I hoped the TripAdvisor folks were wrong. Unfortunately, they nailed it.
Beachfront. Slushy Drinks. Can't go wrong.
Service wasn't super attentive. I ordered a drink that never arrived. But still. Location, and slushy drinks on the beach. We still opted to return (daily).
Strawberry Daiquiri.
I was a bit late to join my friends at Playero on our first visit, and was amused when I showed up to find them all drinking strawberry daiquiris, at 10am. Thoughtful folks they were, they had of course already ordered one for me too.
The daiquiris were absolutely huge. They were not stingy in the addition of alcohol, even though we were ordering them so early in the morning.
The first one I tried felt like a punch in the face from the alcohol, but I was quickly assured by the others that this feeling would go away. Indeed it did. I'm not sure if I just got used to it, or if it was better mixed once I got further into it, but I stopped caring about how strong it tasted after not too long. Danger, danger.
The daiquiris were decent, freshly made to order, nicely slushy. The best part for me however was the garnish. Each came with a large strawberry on the rim. And the strawberries were really, really good. Sure, the first one I had didn't seem washed, as it had dirt all over it. But, they were so sweet and juicy. I can't remember the last time I had a strawberry so good.
Can't resist the slushy drinks!
Over the course of our stay in Alcudia, we returned to Playero most mornings. The strawberries were always a highlight for me, and I appreciated the fact that some of my companions didn't care to just eat strawberries, and gladly gave me theirs. Otherwise, I would have needed to order even more daiquiris, just for the fruit.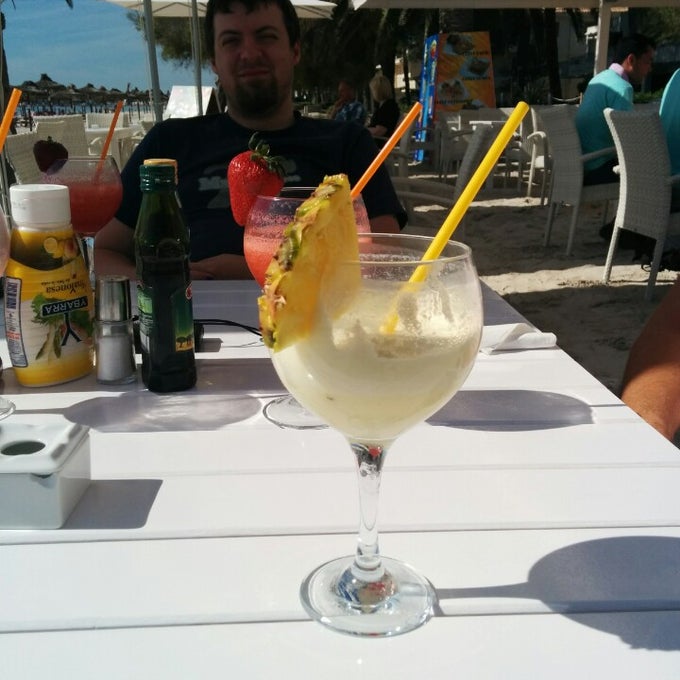 Piña Colada.
I read online that Playero made the best piña coladas on the island, so I had my heart set on getting one.
Sadly, it wasn't a great piña colada. I didn't really taste coconut, nor pineapple. It was really just sweet.
Pa Amb Oli Sampler
Others ordered food on our different visits, but no one really liked what they got. One ordered a croque madam, but it came without the egg.
Emil ordered the Pa Amb Oli sampler platter, I think expecting it to be an appetizer. Pa amb oli is a traditional Mallorcan dish, literally, "bread with oil". Instead of appetizer sized, or, even entree sized, it was a huge platter of 6 assorted pa amb oli, plus olives, peppers, and tomatoes. I helped him out with this, and even so, we didn't come close to finishing it. The server really should have warned us.
The bread that formed the base of the pa amb oli was fine, nicely crusty, although a bit soggy from the tomato spread, but in a way that worked. But, neither Emil nor I are big bread eaters, so this was a bit lost.
There was one piece with meat topping, Iberan ham. Emil liked this one the most. We had so much assorted ham and salami on this trip that I was happy to skip it, but a few others at the table ended up ordering a pile of just the ham because they liked it so much.
Next was a trio of seafood options: anchovies, salmon, and tuna.
I also didn't try the one with anchovies. I don't think Emil did either.
The smoked salmon was fairly standard, decent enough, but not special.
The tuna was ... interesting. Basically large chunks of what seemed like canned tuna. Not exactly high quality.
There were two cheese options: manchego or blue cheese, each topped with nuts.
I tried the manchego, it was fine, sliced thin, but never a cheese I really like.
My favorite was the blue cheese. The cheese went well with the walnuts and the tomato base.
I'm glad I got to try a traditional offering of pa amb oli, since the version we had at the Michelin star restaurant later that day was anything like this, but I certainly wouldn't get it again. The best part of the whole platter for me was the pickled peppers.